Best Website Design Tips
Mar 17
Designing your website may take you in a variety of styles and directions: from the classic to the minimalistic, from the fun and vivid to the sleek and contemporary.

There are a few basic principles that always apply, even if your final look and feel exudes your own style, field of business, and company identification.

A well-designed website contributes to the overall user experience and functioning of the site while also being intuitive to the casual observer. We've compiled some of the best website design tips to help you create an engaging and effective website, which you can use immediately:
Tips for creating a stunning website
Keep your homepage clean and simple.
Make use of the principles of visual hierarchy
Ensure that your website's content is readable
Make sure your website is simple to use
Stay mobile friendly
Your homepage should be simple and free of unnecessary distractions
The front page of your website should instantly convey your primary message. We don't spend our time reading every word on a website, after all. Instead, we scan the page fast, focusing on the most important words, phrases, and images. Emotional appeals rather than word count are preferable in light of these well-known habits.

The easier it is for site visitors to comprehend and analyze your material, the less things they have to read, click on, or remember. Users are more likely to perform the actions you want them to if you design for shorter attention spans and utilize a more current website design.

You may use these easy website design guidelines to split up your material and create a visually appealing homepage design when you're learning how to design a website.

Visitors should be able to get a sense of what your website is all about without having to scroll or browse elsewhere.

Content should be spread out: Using whitespace between components is a good practice. You'll create a more open, well-balanced design if you leave certain portions of the design unfilled. In terms of your writing, keep your paragraphs short and simple.

Picture this: Alternative approaches to express your argument include the use of high-quality media assets such as gorgeous images, vector graphics, or icons.

A call-to-action (CTA) button should be placed on the homepage of your website to encourage visitors to do the action you want them to take.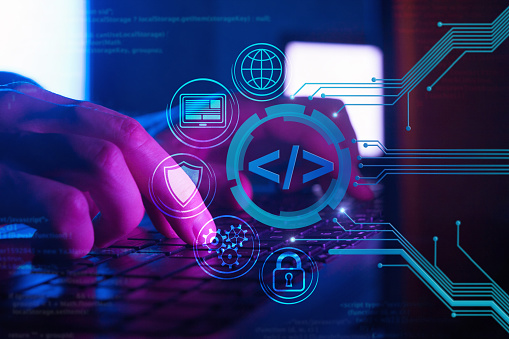 Observe the visual hierarchy when designing
In design, hierarchical structure is a key element that helps convey your message in a clear and concise manner. In order to direct site users' attention to various page parts in order of importance, starting with the most important item, you may employ the right usage of hierarchy.

The most important visual hierarchy components are:
By making your most important assets, such as your business name and logo, larger and more visually visible, you will be able to better convey your message. In general, readers like large, bold headlines before moving on to smaller paragraph text.
The appropriate website style might help you focus the attention of your site visitors in the right way. Even a small call-to-action button may have a big impact if it's placed right in the middle of the screen.

Readers can't help but follow the breadcrumbs you leave for them after you establish a clear hierarchy for your material. In order to further emphasize a point, use color, contrast, and space, keeping in mind what is grabbing the most attention.

Strip or grid layouts, like the Wix Pro Gallery's, are powerful web design features that may help you build a strong visual hierarchy. Check out designer-created website templates for additional inspiration.
Ensure that your website's content is readable
In terms of "readability," this refers to the ease with which words, sentences, and phrases may be recognized. As a result of your site's great readability, readers will be able to easily scan, or skim, through it without any difficulty. As a result, remembering what you've learned is a breeze.

It's not difficult to improve the readability of your website; just follow these simple guidelines:
The importance of contrast cannot be overstated: There are several benefits to having a good contrast between your text and background color, including better reading and accessibility. It's important to ensure that the color scheme you use on your website is consistent with that of your brand. Use an internet tool like Contrast Checker to do so.
Large font size: Smaller fonts are difficult to read for the majority of the population. At least 16pt is a common rule of thumb for web design. While it's a fantastic place to start, bear in mind that your website's font selection will have a significant impact on this figure.

We have a wide variety of typefaces to choose from in the typographic industry. There are serif fonts (like Times New Roman) and sans serif fonts (which are devoid of the small projecting lines at the ends of the letters).
Generally speaking, sans serif fonts are the ideal choice for extensive internet writings, such as this one. These many fonts can also be combined to provide fascinating font combinations.
Many beautiful display typefaces, such as handwritten script fonts, are also available. Keep in mind that if you decide to utilize one of them, you don't want to overdo it.

Don't use more than three distinct typefaces on a single website at once. While more complex font combinations may be necessary for some tasks, a smorgasbord of types tends to seem crowded and detract from your brand's identity.

It's important to make use of text themes to help your written website content stand out by using different font sizes and weights, such as a huge header, smaller subheadings, and a paragraph or body text that is even smaller. Using this simple website design trick, you can keep your visitors interested in your content at all times.
Make sure your website is simple to use
When it comes to website navigation, it may be in your nature to defy convention. Remember, you want your users to be able to quickly locate the information they need. Your material will be more easily found by search engines and visitors alike if you have a well-structured website.

Adding your logo at the top of the page: Since your visitors are likely to be used to this approach, you may save them a few unnecessary mouse clicks. As part of your branding activities, you should establish your own logo if you don't already have one.

Take note of what's on the menu: Your website menu should be visible and simple to discover, regardless of whether you use a horizontal list, a hamburger menu, or anything else. In addition, make sure each area is arranged in accordance with its relevance.

It is important to have vertical navigation if your site involves long scrolling, such as on one page. Viewers will be able to access any part of the website with only a single click. A third option is the "Back to the Top" button, which takes users back up one page at a time to the top of the page.

It is a good idea to add all of your crucial links in your website footer, which is the final thing visitors will view when they visit your site. If you have a contact form, social media icons, or any other pertinent links that visitors may require, you may add them here.
Stay mobile-friendly
Your professional website should be accessible to all of your visitors, regardless of the device they're using to access it. As the world becomes more mobile, Wix automatically develops a mobile-friendly version of your website when building a site.

You should test every page, user action, and button on your mobile site from the perspective of a user.

Consider limiting page components and scaling down some assets, such as the menu, to make your mobile website cleaner and less cluttered than your desktop version. Mobile features may also be used to enhance the look of your app.